Explore The Chapters
We hope you have learnt how powerful price action trading can be. Now, not all trading setups you see will become winners.
But here's the thing…if your losses are small but your profits are large, you will always be in be out in front. That's why trading risk management is important.
When you are watching the chart for trading setups, you need to see and trade the obvious if you want to make money in forex.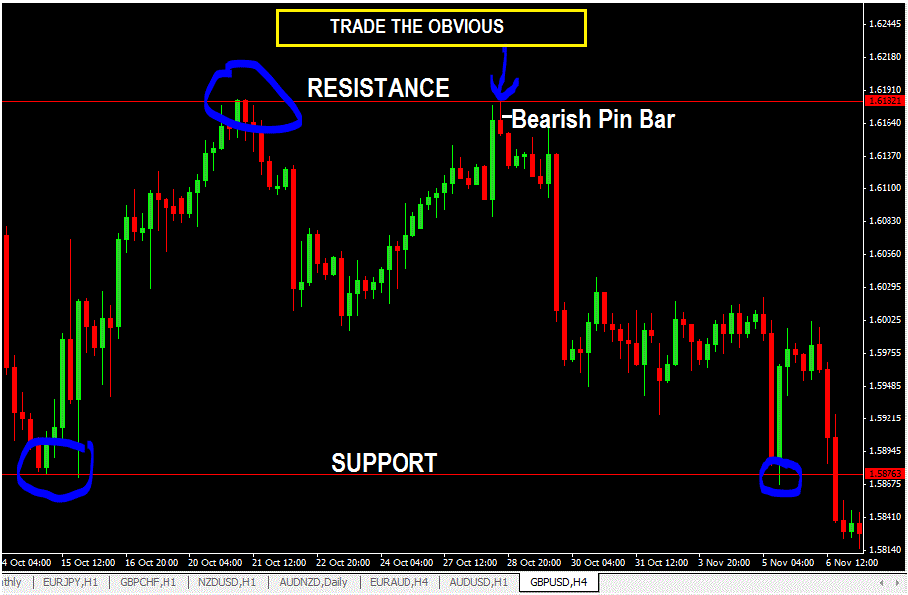 What does that mean?
Well, if there is an obvious pattern on the chart and you can see it clearly, then you should know that there are thousands of traders out there watching the exact same thing as you are doing…because it's so obvious.
Things like:
Trendlines or bullish pin bar forming on a major support level, if you can see that, there are many that will be seeing the same thing.
All these traders will be waiting to see what happens at these levels and say if a bullish hammer forms on a major support level, then guess what will happen next? The most likely outcome of that is that as soon as the high of the hammer candlestick is broken, price will shoot up!


Trade the obvious!
How many times have you ever gone over your chart and you are like:
"Goodness me!  I should have taken a trade here and look at how the market moved after that bearish shooting star candlestick was formed after hitting the resistance level." When you trade the obvious, then you trade with what everybody else is seeing and in essence, you are really doing piggy-back, riding on the market move created by all these orders that puts the odds in your favour.
See the chart below for this: if you see a support major support level and price is heading down to it and at the same time, that support level is coinciding with an upward trendline…
What does this mean? That's Confluence buddy! And then you see a bullish Piercing line reversal candlestick form right at the area of confluence.
Are you going to be undecided about this price signal and pull up stochastic or CCI indicator to really make sure (give you confidence) you need to buy???
Seriously???
No need for that…Just Trade the obvious!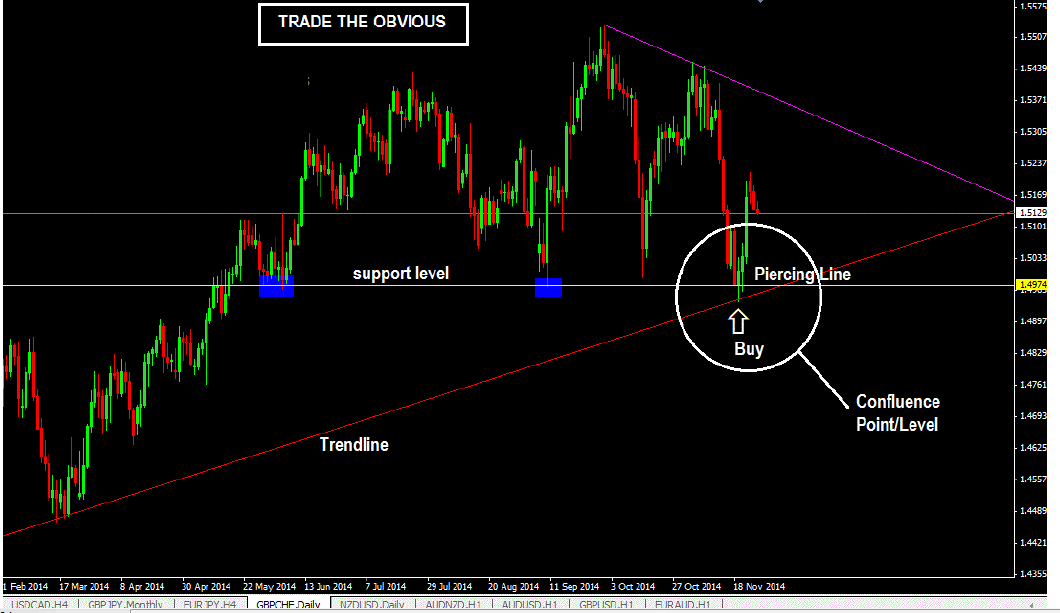 Keep it simple!
Precautions & Conclusion With Price Action Trading
Some things we have learnt:
Levels are not lines drawn in concrete, they get broken. You see, the more a level is tested multiple times, the sooner or later it will get broken. From our observations, 2-3 times is the average, after that, expect a breakout of the level.
Don't listen to analysts. They can stuff up your decision-making process and cloud your judgment.  For example, you see a sell setup on my chart but because you've read the analyst's report that says he is bullish on this currency pair because of this and that reason, you hesitate to pull the trigger. Later, you check the chart and see that If you had sold, you would have made money. So use your own independent judgment based on what you see on your charts.
Find your best timeframe to trade. Your personality, work circumstances etc may dictate what timeframe you can use. You can choose to be a scalper, a day trader or a swing trader. Play around with these different trading styles and see what you like.

You need to find a strategy that works for you.

If the bus leaves you, don't chase the bus! In other words… don't chase trades. If you are late to get into a trade at an optimal entry point and realized that you might "miss out", then back off and wait. There will always be another opportunity or wait for a retrace/retest/pullback etc and then enter.
Be patient for the right trading setups to form.
If you are suffering from losing streaks, take a break. Take a week off from trading to clear up your mind then come back with a clear mind to trade.
If you have winning streaks, don't get overconfident and risk more. Your streaks of losses may be just around the corner. Having a solid trading plan will help in this regard.
Trading is a practical endeavour, all the things we have taught you in this course won't do you much good if you do not put into practice. Open this demo account to test all you have learnt here.
Explore The Chapters In The Price Action Course
Share this using the buttons below