Are you looking for the best list of copy trading platforms? Then look no further as we look in-depth at the best brokers offering copy trading.
What Is Copy Trading?
Copy trading allows traders to copy trades executed by other investors in the financial markets. The goal of copy trading is for the trader to have the same positions as the investor they are copying.
Copy trading platforms provide performance statistics, operating history, number of copiers, capital following a signal provider, and a risk score. After selecting a trader to copy, copy traders allocate funds to follow the chosen trader. The platform provider will duplicate all actions taken by the signal provider to the copied portfolio, usually proportional to the dedicated capital. Copy traders can stop following a trader or make manual adjustments to the stop loss and take profit levels if desired.
When copying another trader, one doesn't receive the layout of the trader's strategy, but simply follows their trades blindly. Copy trading can be useful for traders who don't have the time to follow the markets themselves.
Below is an in-depth look into the best copy trading platforms.

Which Are The Best Brokers Offering Copy Trading?
HFM (formerly Hotforex) is an award-winning and regulated broker with a track record of excellence and it has one of the best copy trading platforms around. The broker has a proprietary copy trading platform called HFcopy. 
Designed to connect traders despite their geographical boundaries and level of trading, HFcopy is a powerful trading tool that allows traders to join forces and work together as allies to try and master the markets. The HF Copy platform is so good that it has won the  'Best Global Forex Copy Trading Platform' award.
HFCopy accounts have no commissions. The minimum deposits for HF Copy are:
$500 for traders providing strategies on HFCopy accounts
$100 for followers looking to copy traders on HFCopy accounts.
As a follower, you will have full control of your account. You can monitor trades and withdraw funds at any time you wish. You can also unfollow a strategy provider at any time.
You will find Strategy Providers on a performance table, compare their trading stats and eventually choose who to follow.


How Does HF Copy Trading Work?
Simply open an account, discover traders who match your trading style to copy, and receive a return as applicable.
Before you start copy trading, make sure that carried out your analysis on a position or particular market before you commit real capital to it. Remember that even if you are following the methods of an experienced trader, your capital is still at risk.
Advantages of Using HF Copy As A Follower
1. Full control of your account
You can:
2. Convenience
With HF Copy, it is easy and convenient
Copy trades automatically
Save time and energy
No need to develop your own strategy
3. Diversification
Follow more than one Strategy Provider
Copy different trading styles
Create unique people-based portfolios
Earn passive income
Advantages of Using HF Copy As A Strategy Provider
As a Strategy Provider, you can demonstrate your trading techniques and enjoy benefits such as:
Plan and trade and get rewarded for your successful trades with a performance fee of up to 50%
Performance fees are paid bi-weekly, in a fast and secure way
Showcase your unique trading skills, let others follow and copy your trades and build your inventory of loyal Followers
unlimited number of followers for increased income-earning opportunities
Learn more about HF Copy Below


You can also read the full, in-depth HFM broker review.
The forex copy system by InstaForex allows you to copy the trades of professionals automatically.
One of the advantages of the ForexCopy system is its reliability. As a follower, you fully control the situation, as the money stays in your account. You can customize the settings and even manually cancel copied orders if they seem potentially unprofitable.
The minimum deposit needed to start copying is as low as US$10 making it very accessible for traders. You can also copy several professional traders to minimise risk.
Learn more about the Forex copy system by InstaForex.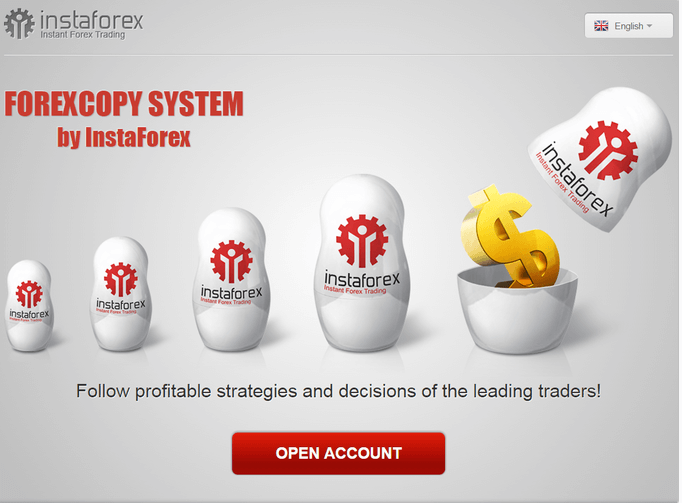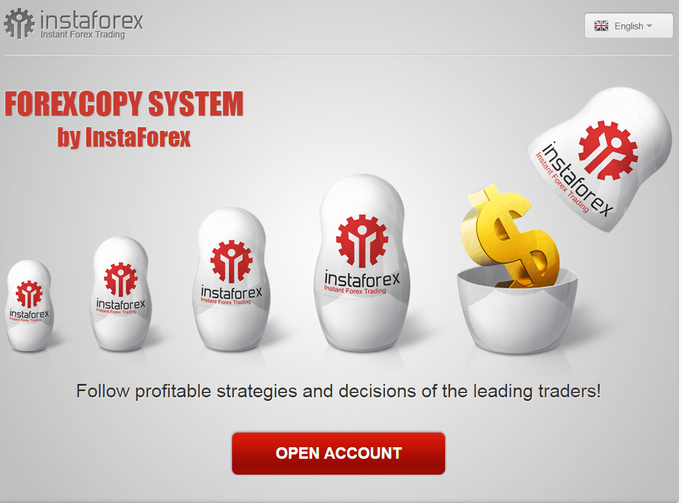 The Forex Copy service by SuperForex is available for all clients who have already opened a standard account and have made a deposit of at least $10.
Upon subscription to a Master, the follower must choose a type of subscription: either daily (paying daily for copying the Master's deals) or based on the profit share (paying for every copied profitable deal).
Is copy trading profitable?
Copy trading can result in high profits if the trader finds a successful trader to copy. However, the greatest risk a trader will face when copy trading is market risk. If the strategy a trader is copying is unsuccessful, they can lose money. Traders also face liquidity risk if the instruments they are trading experience illiquid conditions when markets are volatile.
Lastly, traders can face systematic risks if the product they are trading experiences sharp declines or rallies.