Explore The Chapters
What is confluence and how can you trade it with price action?
At its most basic, confluence refers to a junction of two or more items. For example, the place where two rivers meet is called confluence.
In price action trading,  confluence refers to a point where two factors come together confirming the same setup or trade idea.
For example, what if you were watching the market and then you saw that price is heading to a resistance level and then you checked your Fibonacci retracement and it's almost like a coincidence that the resistance levels is also at 61.8 Fibonacci level as well.
And there's even more…the overall trend is also down.
So you have 3 things lining up for you, here they are again:
the overall trend is down

you have a resistance level that price is coming to

and you notice that the price is also heading up to the fib level is 61.8 which coincides with the resistance level.
This is an example of confluence.
A confluence is a point/level in the market where two or more levels intersect each other (or come together) and they form a flashpoint or hot point or confluent point.
Here's  An Example Of How You Can Trade Price Action With Confluence
Let us give a real example of a trade that we took as we were writing this. This is the daily chart for AUDUSD.  Have a good and close look at it.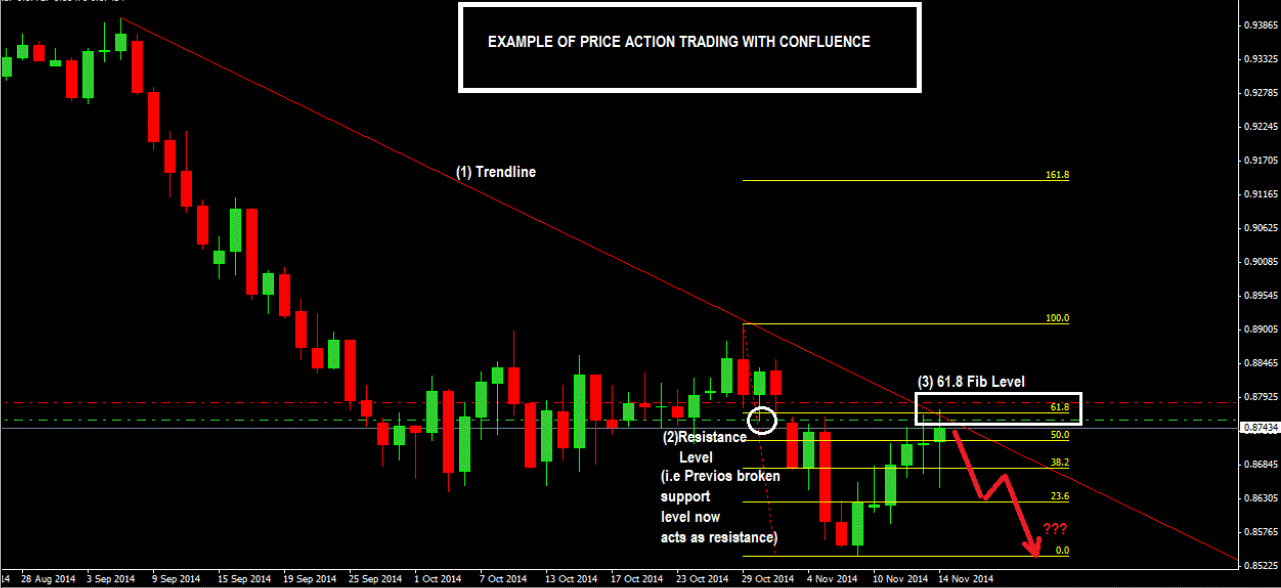 Here's why we took that trade:
We first drew a downward trendline and was waiting to see if price would come up to touch the trendline.
And I also noticed that the previous support level that was broken could potentially act as a resistance level causing price to reverse. Therefore now we have two things coming together.

Next thing we did was to check what the fib retracement level to see if price came and hit that resistance level what the ratio would be. Surprisingly, it was 61.8%. Sweet! So now we have 3 things coming together.
So how did we take the trade then?
We switched to the 1hr timeframe and waited for price to come and hit the confluence zone and saw a shooting star, a bearish reversal Candlestick pattern (also sometimes called a bearish pin bar). That was our clue to execute a short trade right there.
Here's is a close-up of how the trade setup looked like in the 1hr where we were waiting to take the trade(see chart below):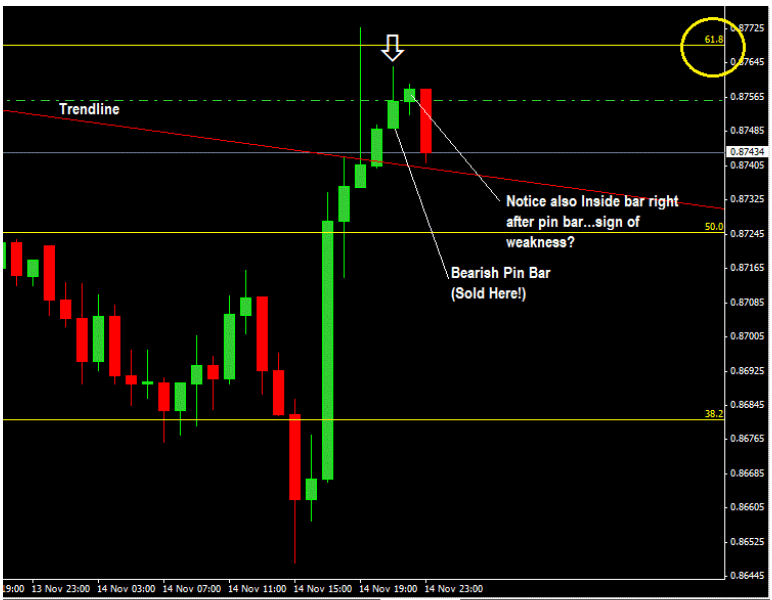 We risked 50 pips for this trade and later we are going to set the previous swing low as my profit target which is 215 pips and if our profit target gets hit, we will make 7 times what we risked initially.
Update:
Good thing as we were still writing this guide this trade played out so we can show you what happened:
As you can see, we managed to make 138 pips on the first trade. Note also that we also made a 2nd trade using a strategy called pyramiding which made 125pips as well. Even though my profit target was not hit, I used trailing stop loss as shown below until I got stopped out when price moved back up.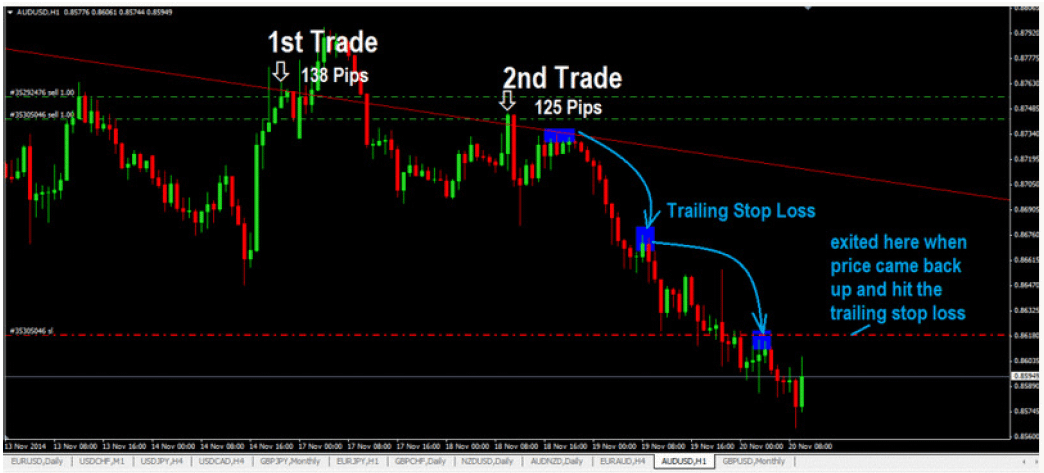 That's the beauty about these kinds of trades:
They are really low risk-high reward entry trades.

They have a great chance of being profitable.
There are two ways you will learn from price action:
First, is to spend hours over your charts analysing what happened in the past and asking these types of questions:
Why did price make a big upward move from here and why did price make a big downward move from here?
What price action signals that formed there that could have given anybody an indication that this massive move was about to happen? 
You will be bloody surprised at what type of reversal candlesticks and chart patterns you will find!!!
Then with that knowledge, get back to the present and see if you can see these patterns unfolding in the current market.
Here's an example of a doji candlestick confluence with the dominant downtrend, as if formed telling you to sell the market with the trend. This short trade setup had 4 factors of confluence supporting it:
The doji had confluence with the dominant downtrend, as it formed telling you to sell the market with the trend.

The doji showed a clear indecision by the sellers and the buyers therefore the breakout of the low of doji candlestick was what the sellers were waiting for to push the market down.

The doji candlestick also formed between 50-61.8 Fibonacci retracement zone.

The moving averages providing dynamic resistance.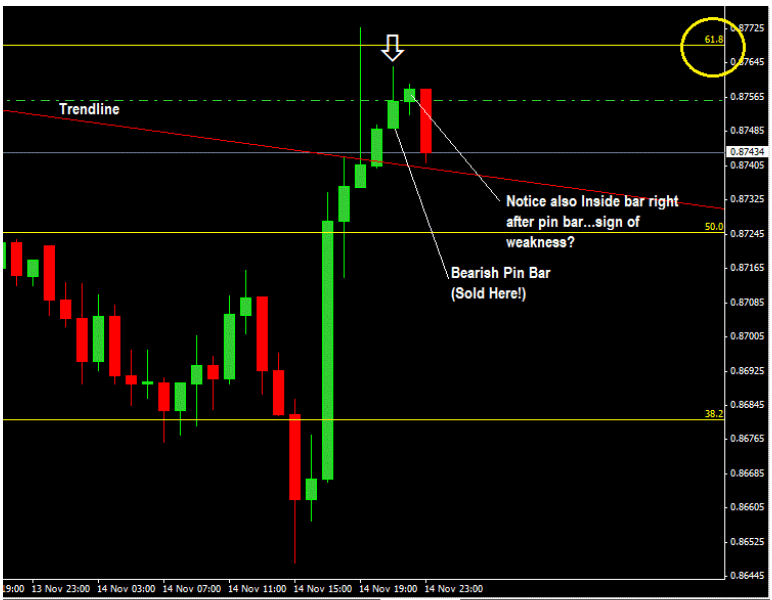 Here's another example: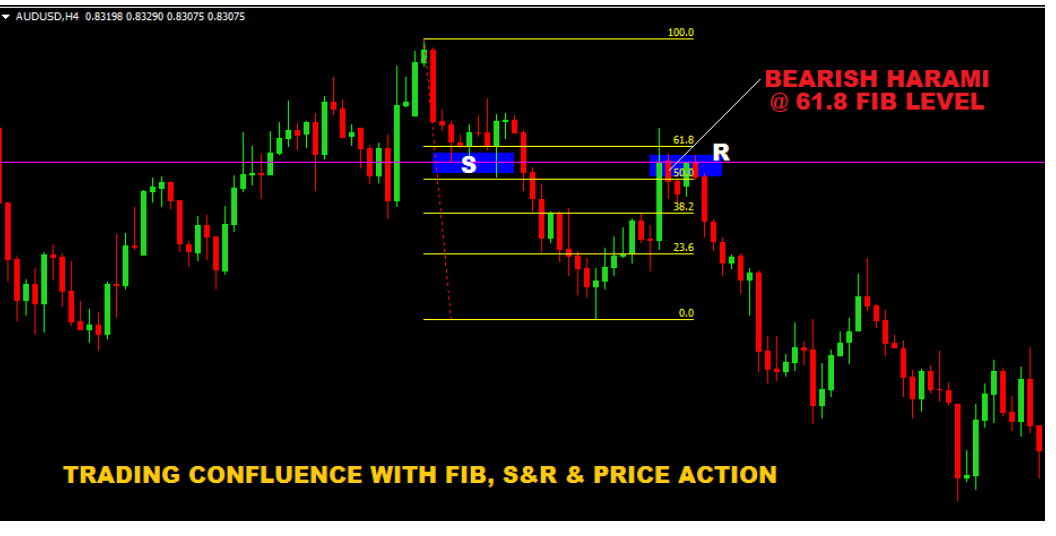 Now, we can put lots of charts giving you examples of what happened in the past…but it's best that now you see and understand what we are explaining here, and then go and sit down and observe what happens on your charts in real-time.
Try to also see how trading with confluence is very applicable when trading price channels even on volatility indices.
All this information here is providing you with the foundation; the basic framework you need to trade price action, the learning comes from observing and doing.
SUBSCRIBE FOR UPDATES
Subscribe below to get notified by email when we post new signals, tips or strategies.
Recommended Brokers
Broker

Regulator

Min

Deposit

Visit Broker
MFSA, LFSA,
VFSC, BFSC
$5
CySec, FCA,
FSCA, DFSA,
FSI
$5
CySec, ASIC
$1

CySec, ASIC

$5
CySec, ASIC
$10
CySec
$50
CySec, ASIC,
BVI, FSC, FSA
$100
Explore The Chapters In The Price Action Course
Share this using the buttons below