Explore The Chapters
A reversal is a term used to describe when a trend changes (reverses) direction. This is a critical part of price action trading. 
Now, where can reversals happen? The following are the major areas where price reversals do happen:
Here's an example of price reversing form a support level and went up and then later broke it and went down. Now that broken support level acts as resistance level when price came for a re-test of the level and sent the price tumbling down: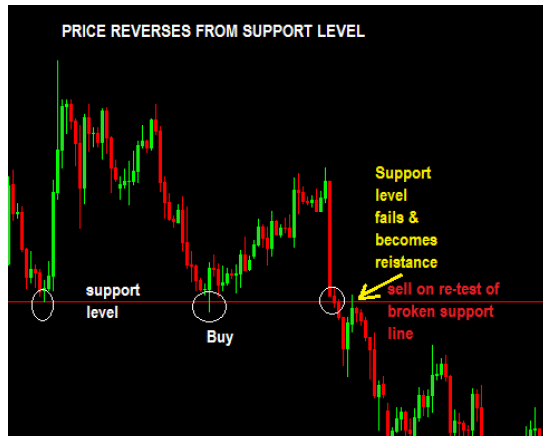 Now, what about continuation then?
In simple terms, continuation means that there is a main trend, for example, an uptrend, that is happening… and you will notice that price slows down and maybe consolidates for a little while and may fall back down a little…it is like a minor downtrend in a major uptrend move called a downswing in a major uptrend.
So when that ends and price resumes in the original uptrend direction then that is called a continuation. The chart below makes this concept a bit clearer:
So the big question is: how to spot trend continuity and execute trades at the right time?
The secret is in the identification of specific chart patterns as well as very specific candlesticks patterns and you will discover more on the Chart Patterns and Candlestick Patterns section of this course.
Top 3 reasons why it is so important for you knowing reversal points/levels as well as understanding trend continuity patterns and signals:
You don't want to be buying near or at a resistance level (which is a reversal point).

You don't want to be selling at near or at a support level (which is a reversal point).

You don't want be buying when the trend is down and you don't want to be selling when the trend is up that's why you need to know about continuation charts and candlestick patterns which will allow you to trade with the trend. (There are exceptions though when you can trade against the main trend like that like in trading channels and we will look at that in detail in a few chapters of this course)
You will also need to know about candlestick patterns that are associated with reversals like pin bars.
As always, please do not forget to share this with your friends using the buttons below.
Explore The Chapters In The Price Action Course
Share this using the buttons below
Recommended Wallets