Explore The Chapters
Learning How To Trade Price Channels is very beneficial if you are a price action trader as they occur frequently on the charts.
The path price follows and the area enclosed within it is called the price channel.
Price channels are in some ways linked to trends and market swings.
The fundamental principle of how a channel form is based on support and resistance. Why price does that, I don't know… but consider it as supply and demand at work.
There are 3 major types of channels:
The uptrend channel,
the downtrend channel and
the sideways/horizontal
This is what a downtrend channel looks like and how to trade it: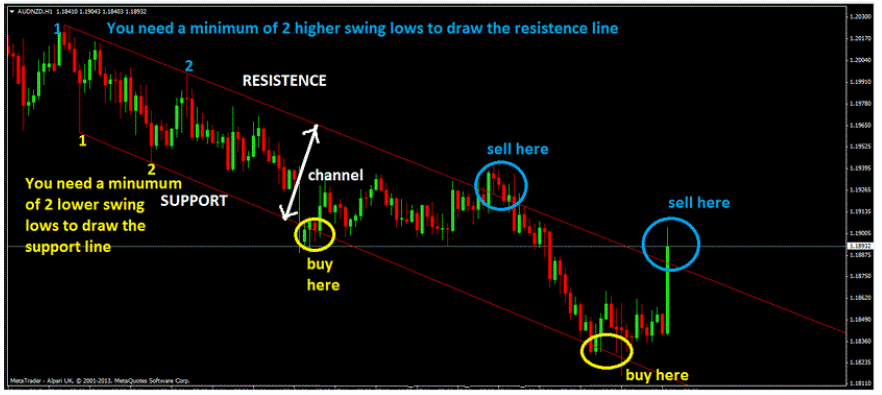 This is what an uptrend channel looks like and shows how you can trade it:
This is what a sideways channel looks like and how you can trade it:
Sideways channels (or horizontal channels) are little bit different from uptrend and downtrend channels because with uptrend and downtrend channels, you would require 2 points to draw trendlines and wait for price to touch them later on before you take a trade because the trend lines are at an angle.
But with sideways/horizontal channels, you can actually start trading the setup at point #2 which can be both a resistance or support level based on the fact that a prior resistance or support level is already visible and you should expect price to bounce from those levels. Look for reversal candlesticks to buy or sell when you see such setups happening.
General Rules For Trading Channels
If you buy or sell on the other side of the channel, you wait for the price to reach the other end of the channel to take profit or exit the trade.

Place your stop loss on just outside the channel or just above the high of the candlestick (for a sell order) or just below the low of the candlestick (for a buy order) that touched the channel and shows signs of rejection. This candlestick can also be a reversal candlestick.

You may also decide to take half the profits off as price is in the middle of the channel for a profitable trade.
Practice these trades on demo before going live with them.
Train your eye to see these kinds of setups. In-depth knowledge of candlesticks and reversal patterns like pin bars will help you as you trade price channels.
Knowledge of how to trade support and resistance levels will be helpful too.
SUBSCRIBE FOR UPDATES
Subscribe below to get notified by email when we post new signals, tips or strategies.
Explore The Chapters In The Price Action Course
Share this using the buttons below