Deriv.com is a new trading platform that has roots going back 20 years to as far back as 1999. This new platform is an exciting and refreshing improvement from its predecessor Binary.com. According to the broker, Deriv is created to be a place where people can trade what they want, how they want.
What is The Difference Between Deriv.com & Binary.com? 
Deriv.com is a result of rebranding of Binary.com. The broker felt that the name binary.com gave clients the idea that only binary options are offered. This would have been misleading because the broker offers so much more including forex, commodities and synthentic indices. 

On top of the rebranding, Deriv.com has new features include a user friendly interface which offers Binary.com's platforms and other new trading instruments like multipliers.
For now, Deriv.com and Binary.com will co-exist side by side but the binary.com platform will eventually be phased out. Binary.com clients can use their existing login credentials on Deriv.com.
Can You Still Trade On Binary.com?
Yes you can but the platform will eventually be phased out so you may want to familiarise yourself with the Deriv interface as soon as possible.
Is Deriv.com Regulated?
Yes the broker is regulated in all the jurisdictions where it has offices. Broker regulation is important because it shows that the broker adheres to strict operational guidelines that ensure that it does not scam its clients.
Deriv is registered in Europe to Binary Investments (Europe) Ltd., with an office in Malta. Deriv is licensed and regulated as a Category 3 Investment Services provider by the Malta Financial Services Authority, with the license number IS/70156.
In Asia, Deriv is registered to Binary (FX) Ltd., with an office in the Federal Territory of Labuan, Malaysia. Deriv is licensed and regulated by the Labuan Financial Services Authority, with license number MB/18/0024.
In Vanuatu, Deriv is registered to Binary (V) Ltd. and is licensed and regulated by the Vanuatu Financial Services Commission, with license number 14556.

Which Assets Can You Trade On Deriv.com?
Deriv.com offers over 100 products for trading including:
Forex – Close to 50 FX currency pairs, including majors, minors and exotics
Stock indices – Speculate on price movements across the largest US, Asian and European stock indices
Synthetic indices – Based on a secure random generator, synthetic indices replicate real-world market conditions and are available 24/7 delivering consistent volatility. You can read an in-depth guide on synthetic indices here.
Commodities – Precious metals, such as gold and silver, plus energies like oil are available
Which Trading Platforms Are Available On Deriv.com?
Three trading platform are available on Deriv.com. These are DMT5, DTrader & DBot. 
Deriv MetaTrader 5 (DMT5)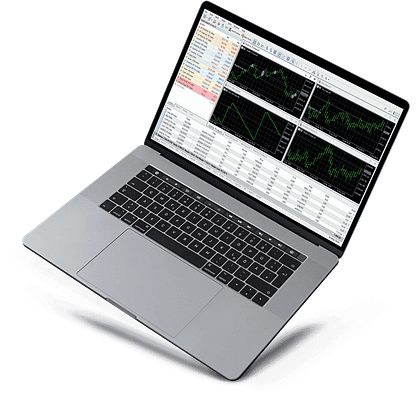 DMT5 is Deriv's exclusive version of the MT5 platform developed by MetaQuotes Software. The all-in-one FX and CFD trading platform gives you access to to multiple asset classes — forex, stocks, and commodities — on a single platform.
All in all the platform has 100+ tradeable assets and currently has over 330k + clients enjoying 24/7 trading.
Deriv brings the MT5 experience to a superior level for both new and experienced traders on the platform, with exclusive access to innovative trade types.
DMT5 supports all the three account types offered by the broker. You can access the DMT5 as a downloadable application on desktop and mobile (both Android & iOS).
You can also access DMT5 on your browser as WebTrader although this has limited functionality.
DTrader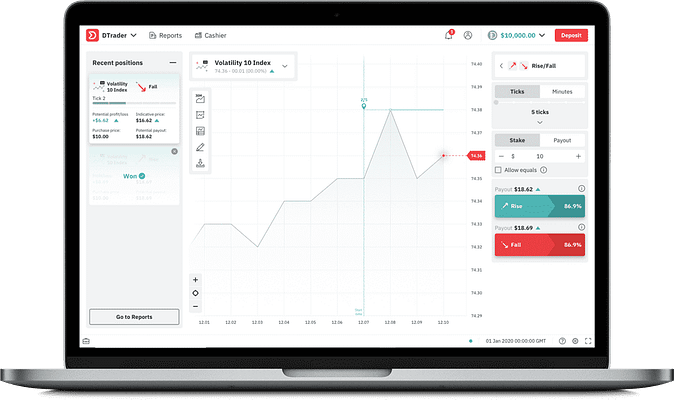 DTrader is Deriv's customisable web-based trading platform with a clean interface and 50+ tradable assets. You can also tailor your charts to meet your needs with technical indicators and widgets you need to make smarter trading decisions.
Trade types can also be highly customised, with minimum position size of just $0.35 and flexible trade duration between one second and 365 days available.
The potential payouts on the DTrader impressivley exceed 200%.
All in all, the DTrader platform is an excellent evolution in trading platforms, promising an optimal user experience.
DBot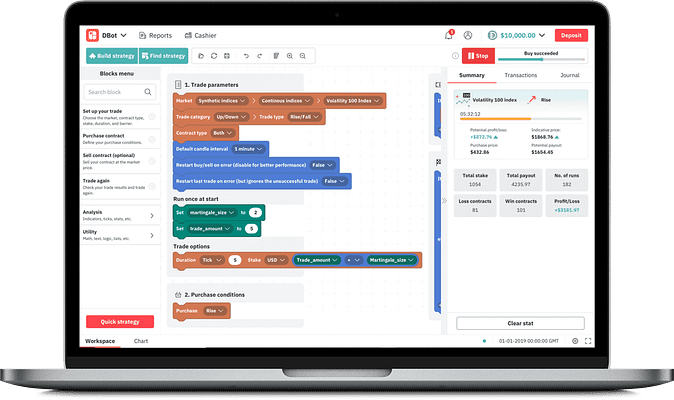 DBot is Deriv's free robot trading platform that gives you a straightforward path to getting set-up using algorithmic investing.
DBot is designed to be flexible with novices and experts, and it features pre-built bots as well as options to develop custom bots
Trading bots are free to develop, can be built in five steps, and can be used on over 50 assets. There are also three pre-built strategies that traders can use as they find their feet.
A useful additional feature is the performance tracker so you can make tweaks to maximise returns. The tracker sends regular reports on Telegram.
Which Account Types Are Available On Deriv.com?
Deriv offers three different account types that gives access to different trading instruments.
 • The Synthetic account allows trading on synthetic indices, which are indices designed to mimic the movement of real-world assets but are unaffected by real-world events such as speeches of heads of central banks, economic releases, and others. Leverage for this account goes up to 1:1000.
With this account you can trade 24/7/365 making it very convenient. This is one of the most popular account types on Deriv since no other broker offers synthetics.
• The Financial account allows CFD trading on major and minor pairs, commodities and cryptocurrencies, with leverage of up to 1:1000
• The Financial STP (Straight-Trough Processing) account allows Contract For Difference (CFD) trading on FX majors, minors, and exotics, with leverage up to 1:100, so it's much lower than the other 2 accounts but it's still very acceptable. 
How Do I Trade Binaries On Deriv.com?
After looking at the different account options above you may be asking,
"Which account type do I need to trade binary options on Deriv.com?"
You do not need any special account to trade binaries on Deriv.com. The main 'account' that you setup during the registration process before setting up the different accounts above lets you trade binary options.
Deriv offers Binary options like Rise/Fall, Higher/Lower, Even/Odd and Touch/No touch.
SUBSCRIBE FOR UPDATES
Subscribe below to get notified by email when we post new signals, tips or strategies.
How High Are The Spreads & Commissions Charged By Deriv.com?
As a trader it is very important to know of the spreads and commissions charged by a broker since these represent the trading costs that you must endure. Deriv promises tight spreads and minimal trading fees just like its predecessor Binary.com which had a strong reputation for competitive spreads and a transparent fee structure.
What Is The Minimum Deposit on Deriv.com?
The minimum deposit on Deriv.com varies from $5- $10 depending on the deposit method you use. For example, if you use e-wallets like Skrill, Neteller and AirTm, your minimum deposit will be $5.
If you are using the other methods like credit cards then the minimum deposit will be $10.
Open An Account On deriv.com
What Are The Deposit Payment Options on Deriv.com?
Deriv really makes it easy and convenient for you to deposit to your trading account thorough a number of options including:
E-wallets – Skrill, Neteller, AirTm, PerfectMoney, Jeton Wallet, Fasapay, and WebMoney are all available, amongst others. Deposits are processed instantly and they start at 5 of your base currency. You can exchange between currencies at BestExchange
Credit/debit cards – Deriv accepts and processes instantly deposits made via both Visa and Mastercard. The minimum deposit starts at 10 USD/GBP/EUR/AUD. 
Bank wire transfer – Minimum deposits start at $5 with most deposits processed instantly.
Cryptocurrency – If you prefer cryptocurrency then you can use Bitcoin, Ethereum, Litecoin and Tether to deposit into your account. There is no minimum deposit when using cryptocurrencies, with payments processed in three blockchain confirmations.
Payment Agents – These are explained in-depth below.
Deriv.com does not charge fees for making deposits.
Some Of The Deposit Payment Options on Deriv.com
What Are The Withdrawal Options on Deriv.com?
In line with making its services customer- friendly, Deriv allows you to withdraw funds from your Deriv.com account using all of the deposit payment options. 
What Is The Minimum Withdrawal Amount on Deriv.com?
 E-wallets – minimum withdrawal is 5 of your base currency which will be processed within one working day.
 Credit/Debit Cards – minimum withdrawal is 10 of your base currency which will be processed within one working day. Note, MasterCard and Maestro are only available to UK traders.
Cryptocurrencies – Bitcoin offers the lowest minimum withdrawal of 0.0026 while crypto withdrawal times are one working day plus three blockchain confirmations.
Payment Agents – These are explained in-depth below.
 As with deposits, Deriv.com customers aren't charged any fees to withdraw profits. This makes Deriv one of the most accessible and cost-effective brokers to make deposits to and withdrawals from.
What Are Payment Agents on Deriv.com?
Deriv has an exciting feature for traders that makes it easy for them to withdraw and deposit via third parties called payment agents.
A payment agent is authorised to make deposits and withdrawals for clients who want to deposit using other payment options that are not directly available on Deriv.com. 
For example, E-Wallets like Skrill and Neteller do not accept customers from some countries. Traders from these countries can send a payment agent funds via local bank transfer or mobile money.  The payment agent will then deposit funds from her trading account to the account of the trader.
In the same manner, the trader can request to withdraw via a payment agent. The funds will be deducted from the traders account to the payment agent's account. The payment agent then pays the trader using an agreed local payment method e.g Mobile Money.
Another major advantage of payment agents is that they can make deposits and withdrawals to and from unverified accounts on Deriv.com.
An unverified account is one where the trade has not yet uploaded documents to verify their identity and residence due to a number of factors. For example, they may be renting an apartment without a lease agreement and thus they may have challenges getting a proof of residence document.
Withdrawals and deposits made via payment agents are instant.  
How Do You Contact Deriv Customer Support?
Customer support on Deriv is available 24/7 through the Help Centre. This is a self-service portal can assist with a range of queries, from account questions to platform issues. It's a knowledgebase of some sort.
Live Chat – Live chat support is now available direct from the website but you will be talking to a bot.  Online chat can be a fast and helpful avenue for support but its lacking on Deriv.com
Email Support – Deriv can also be contacted via their email on [email protected]
Open An Account On deriv.com