It is now possible to transfer funds between two Deriv accounts belonging to two different traders without using a third-party e-wallet. This article will show you two ways you can easily transfer funds from one Deriv account to another. These two methods were created after Skrill and Neteller stopped supporting deposits and withdrawals to many brokers including Deriv. The two methods are :
How To Transfer Funds From One Deriv Account To Another Using Payment Agents
Deriv has authorised payment agents in various countries to be able to process deposits and withdrawals on behalf of clients in exchange for local payment methods that are not acceptable on the Deriv cashier.
The minimum amount that can be transferred via payment agents is US$10.If your account is not authorised to deposit or withdraw via payment agents then you can apply for authorisation via live chat on the Deriv website.
Verification usually takes a short time.


How To Deposit to your Deriv Account Using A Payment Agent
1. Find a Payment Agent In Your Country
There are various payment agents per country. Log in to your Deriv account (if you do not have a Deriv account you can create one by clicking here). Then click on Deriv Cashier > Payment Agents.
You will see a list of payment agents available in your country. You can filter the payment agents using the payment methods they accept.
Choose the payment agent you want and then get their contact details.
2. Contact the Deriv payment agent 
Contact the Deriv payment agent and alert them that you want to deposit via them. You will need to confirm if they have the float to deposit to your account.
The agent will tell you their commission fees for deposits and the payment methods they take. If you are in agreement you can proceed to step three.
If not, you can go back to the payment agents list and find another agent.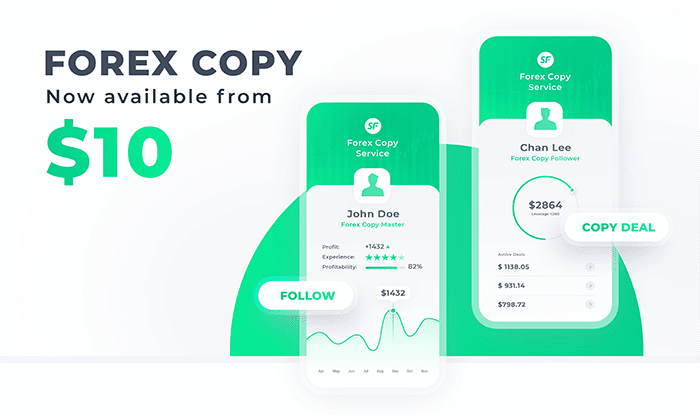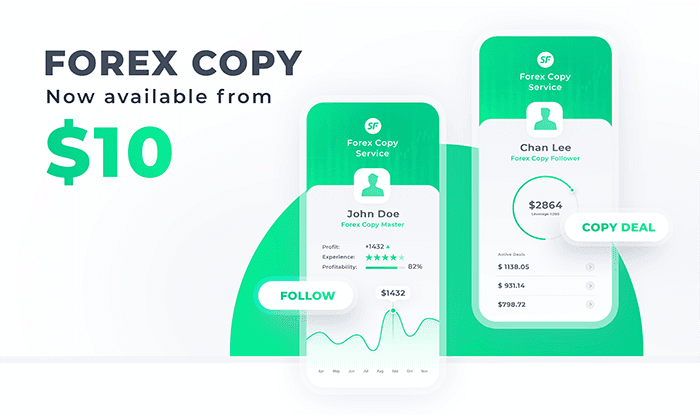 3. Make your payment to the agent
Pay the agent using your pre-agreed method and send them your proof of payment. This is, of course, not necessary for cash transactions done face-to-face.
4. Give the payment agent your name and CR number for them to make the transfer
These details are necessary so that the payment agent can verify if they are making the payment to the right account.
What is Cr number in Deriv?
The cr number in Deriv is a unique account identifier. Each different Deriv account has a cr number that is specific to it.
The CR number is not your DMT5 login.  You can find your CR number using the image below.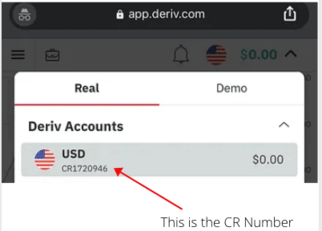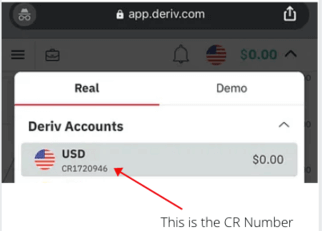 5. Payment Agent makes the transfer 
The payment agent will then make the transfer and the funds will reflect instantly in your account.
If needed, the payment agent can send you proof of transfer like the image below.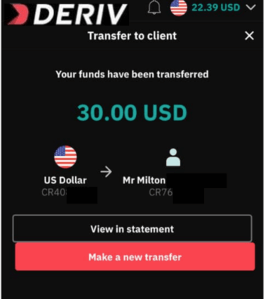 You can use the funds to trade binary options. You can also proceed to move the funds from your main account into your DMT5 account and trade synthetic indices like boom and crash and the step index.
You can even use the funds to trade forex on Deriv.
READ: Comprehensive Deriv Broker Review 
How To Withdraw From Deriv Account Using A Payment Agent
1. Find the payment agent to do the transaction with
Log into your Deriv account and go through the payment agents list. Contact the Deriv agent and ask to do the withdrawal through them. Check if they have the funds to pay you in your local currency and let them know their commission rate for withdrawals.
4. Get the payments agent's CR number and name
You will need to enter and confirm these details when you make the withdrawal. It is important to ensure that you are withdrawing to the right agent.
Once you have confirmed the withdrawal the funds will be instantly transferred to the agent's account. You will both get an email confirming the withdrawal.


4. The payment agent pays you. 
The agent will then use your pre-agreed local payment method to pay you less their commission. The withdrawal via Deriv payment agent will then be complete.
It is very convenient and fast to transfer funds from one Deriv account to another using payment agents. It is also secure in that the payment agents' details are with Deriv and should anything go wrong you can raise a dispute.
Another great advantage of using payment agents is that you can deposit and withdraw even if your account is not verified.
You can even apply to be a Deriv payment agent yourself and get to earn money via commissions.
How To Transfer Funds From One Deriv Account To Another Using Dp2p
The Deriv peer-to-peer (DP2P) is a platform that makes it easy for Deriv traders to exchange Deriv funds in exchange for payment using local methods not supported on the Deriv website.
The minimum amount that you can move from one Deriv account to another on Dp2p is only US$1.
Anyone with a Deriv account can use Dp2p as long as they have a fully verified account. You will need to register first before you can use Dp2p.


How Do You Register On DP2P? 
Log in to your Deriv account. If you do not have an account you can create one for free first by clicking here (make sure you use the same name on your identity document for registration). This article shows step-by-step instructions on how you can open a Deriv account.
Go to Deriv Cashier > DP2P & register. You need to have a verified Deriv account.
Choose a nickname that will be displayed to other users when you are buying and selling credits.
Upload your identity documents so that Deriv can verify your identity. This is done to protect you and other users on the platform. You can upload either a Passport or Identity document. Make sure you have registered your account using the same name that is on your identity documents for easy identity verification
After applying and getting approved you can then proceed to deposit and withdraw using the platform.
How To Use DP2P On Deriv
To deposit you simply log in to your account and then click Deriv Cashier > Dp2p.
You can also log in to dp2p on the Deriv p2p app. Simply enter the email address and password that you use to log in to your Deriv account.
You will then see a list of the ads of people selling their Deriv credits for local payment.
Choose the one that has the best rate for you and proceed to make the payment. The funds will then be released to your cr. To withdraw from Deriv account using dp2p follow these steps. Log in to your Deriv account and create a sell order.
Fill in your preferred rate of exchange and the local payment methods you will accept. Post the ad and wait for interested traders to book it and make payment to you. After they have made payment you can then release the funds and they will be debited from your account.


Differences Between Payment Agents and Dp2p
These are the differences between the two ways you can use to transfer funds from one Deriv account to another.
The minimum amount you can transfer using payment agents is US$10 while for Dp2p it is just US$1
Anyone with a verified account can transfer funds using Dp2p but only approved traders can become payment agents and effect transfers. You can apply to be a payment agent here
Payment agents charge a commission for their transfers but there are no commissions for transacting via Dp2p. The stated exchange rate is what you pay on Dp2p
There is a live chat option when transacting via Dp2p. When you deal with a payment agent you do not have the same facility