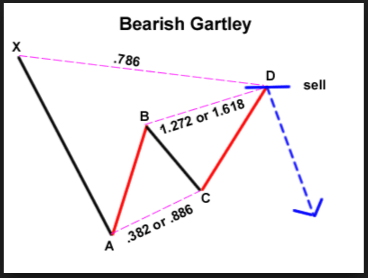 X-A:
this is the longest leg of the pattern when price moves down from point X to A
A-B:
this is when price changes direction and moves up from point A to B.
First pull back at point B must be 61.8% of X-A leg.
The A-B leg must NEVER go past point X, if it does so, it  is invalid.
B-C:
Point C can be 38.2% to 88.6% Fibonacci retracement of the A-B leg.
C-D:
point D is the 78.6% fibonacci retracment level of the X-A leg.
D can also be the 127% or 161.8% fibonacci extension of the B-C leg.
Here's another chart of bearish gartley pattern with a bit more explanation as well: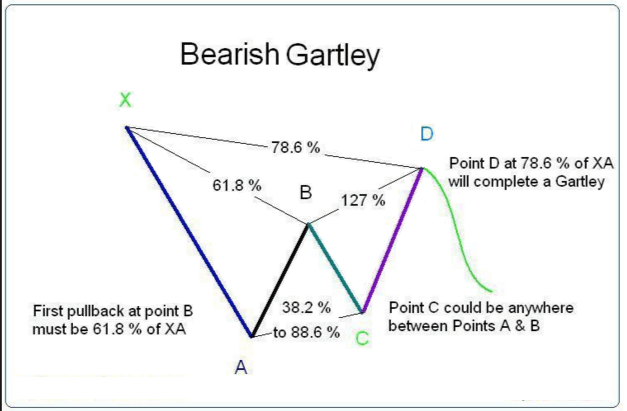 Here's what a bearish Gartley pattern would look like on your chart:
Here's another example of Bearish Gartley Pattern:
How To Trade The Gartley Pattern (The Gartley Pattern Forex Trading Strategy)
You would have figured it out already from the above information where to trade the Gartley Pattern…its at point D.
You look to sell at point D of the Gartley pattern.
Remember, point D=78% Fibonacci retracement of the X-A leg but all these other "legs" have to form first before point C forms.
Sell Setup On The Bullish Gartley Pattern
Point D forms
Look for a bearish reversal candlestick.
Place a sell stop pending order at least 2 pips below the low of that bearish reversal candlestick pattern.
Place stop loss 2-5 pips above the high of that bearish reversal candlestick if your pending order is activated or if that stop loss is too close, move a bit further and find the nearest swing high point and place it just a few pips above it so you have less chance of getting stopped out prematurely in your trade.
For take profit, you have two options, use point  C or A, these two points are essentially previous swing lows.