Deriv is popular for its unique synthetic indices. But, did you know you can also trade forex on Deriv?
This article will show how you can easily open an account and trade forex on Deriv.
How To Open A Deriv Forex Account
1. Open A Demo Deriv Account
You will need to first create a Deriv demo account. This main Deriv account will give you access to all the account types offered by the broker.
To do the Deriv real account registration visit the Deriv official website and click on the "Signup" or "Create free demo account" button. Then you enter your email address and click submit.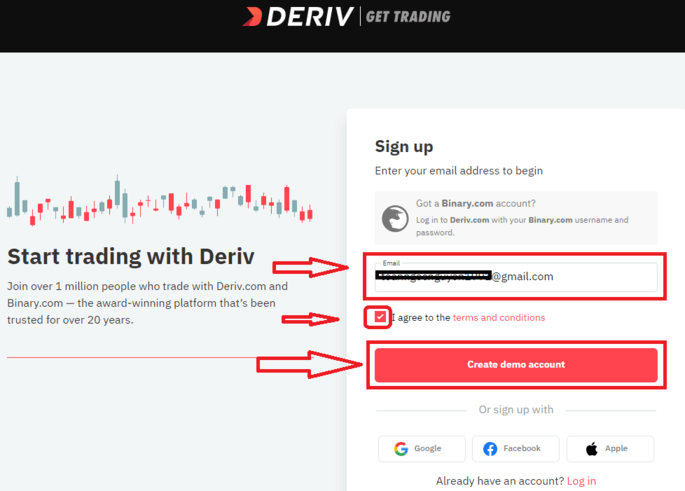 Confirm your email by opening it and clicking the link sent by Deriv. Complete the Deriv sign up process by entering your preferred password and country of residence.
2. Open A Real Deriv Account
By default, you will have a Deriv demo account with $10 000 in virtual funds after verifying your email and setting your password. To trade forex on Deriv using real money you will need to create a real Deriv account.
To do Deriv real account registration you will need first do Deriv login into the Deriv demo account you created in the step above. After logging in you will see the screen below: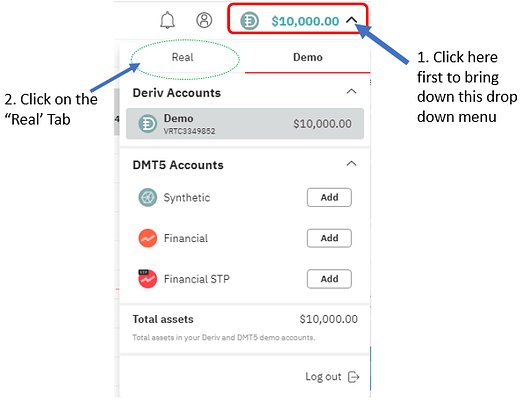 Begin by clicking on the dropdown menu beside the $10 000 virtual money balance and then click the Real tab.
The first option under the Real tab will be the option to add a real Deriv account. Click on the Add button. You will be asked to choose the account base currency. This is the currency you will use to deposit, trade and withdraw from your real Deriv account. You will not be able to change the base currency after you make a deposit. make sure you choose a currency that is convenient for you.

On the next few pages add your correct details including name, address and phone number. You will need to use details that you can later verify.
This is because as part of its Know Your Customer (KYC) policy, Deriv will ask you to upload your proof of residence and ID or passport to verify your account. When you are done you will see the following screen: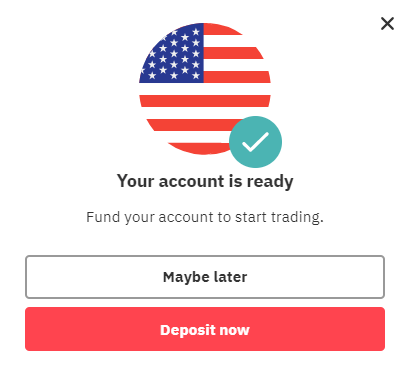 At this point, you would have completed Deriv real account registration.
3. Open a Deriv Financial Account To Trade Forex On Deriv
The Deriv real account you have just created can be used to trade binary options on Deriv via the DTrader platform, but it cannot be used to trade forex on Deriv MT5 or on Deriv X.
To trade forex on Deriv MT5 you will need to open a dedicated DMT5 financial account. The Deriv Financial account gives you access to trading forex, commodities and cryptocurrencies.
How To Do Deriv Real Account Registration mt5
Do Deriv log in and click account balance
Click on the Real tab
Click the 'Add' button next to the financial account.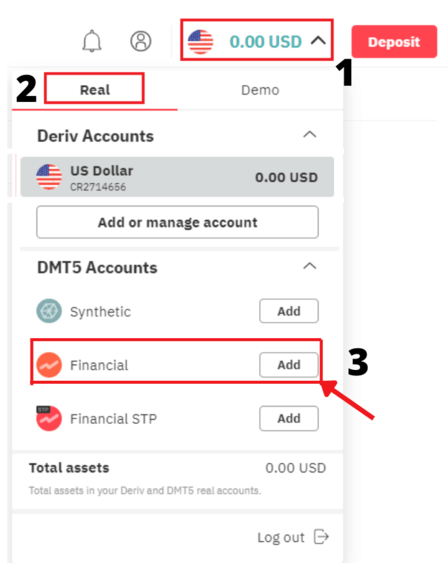 The first step is to choose a password for the Deriv MT5 Financial Account. This is the password that you will use to log in to your Metatrader 5 account. It is not the master account password, it's just for use when you need to trade forex on Deriv MT5.
After creating the account you will now see the Deriv financial account listed with your login ID. You will also get an email with your login ID that you will use to log in to the Deriv MT5 financial account.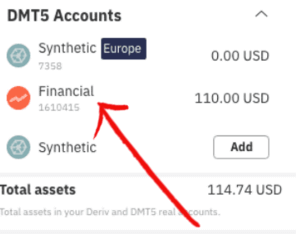 After doing Deriv real account registration mt5 you will be prompted to transfer funds from your main account to your DMT5 so that you can trade. You can fund your Deriv account using the Deriv peer-to-peer (Dp2p) platform or via Deriv payment agents.
4. Download Deriv Metatrader 5
The next step is to download the Deriv MT5 platform. Do Deriv log in and click on the financial account as shown below.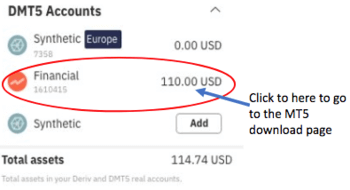 You will then be taken to a page with links to download the Metatrader 5 application for various systems like Android, Windows, iOS etc at the bottom of the page. Download the one you want to use.
You can even choose to trade using the web terminal without installing anything.
5. Log in to your Deriv MT5 Financial Account To Trade Forex On Deriv
After downloading and installing your Deriv MetaTrader 5 you will then need to log in to your trading account.
Click on Settings> Log in to new account.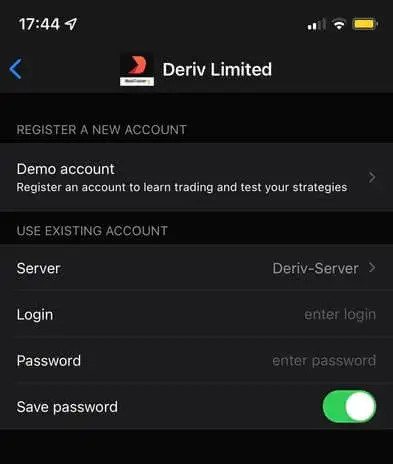 You will need to enter the following:
Broker: Deriv Limited
Server: Deriv-Server or Deriv-Server-02 (Confirm the correct server for your account in the email sent to you after you created the account)

After that, you will now be logged in and you can begin trading forex on Deriv just like you can do on other brokers like HFM, FBS and XM. The Deriv financial account is good for both beginners and expert traders alike.
You can read the full Deriv review here.