Yes, you read right!
Do you seem to always get it right on demo but you lose money the moment you switch to real? Well, how would you like to trade demo money and stand a chance of winning real money in a contest?
Ayrex broker gives all binary traders a chance to win real cash while using a demo account. You can join an ultra-fast demo contest with $1080 monthly prizes.
You stand a chance of winning $100 in just one hour 3 times per week. No deposit is required for you to enter or to win. There are a total of eight winners every round. The competition is open to all demo account holders and the top-ranked participant will win the prize at the end of the Contest.
It's required to Register a demo account once for participating in the Binary Options Demo contest for all subsequent rounds. You can withdrawal your prizes right away provided your account is verified.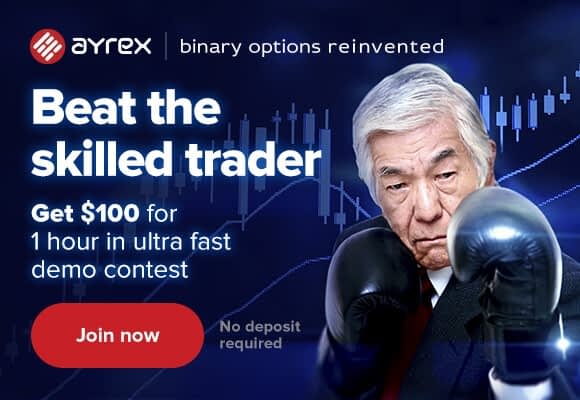 Registration Date – Registration opens until the contest terminate.
Contest Date – Every Mondays, Wednesdays, and Friday (3 Rounds per week)
Contest Duration – 1 Hour – Starts From 12 PM (GMT)

Offer is Applicable: Both new and existing traders.
How to Apply:
Register a demo account
Use the same account for the rest of the rounds
To Win:
Be the among first eight at the finish
Prize will be distributed as given below
Bonus Cash Out:
All Prize is real cash, fully withdrawable
More Details – AYREX's Binary Blast Demo Contest
Starting balance is $1000
Maximum open trade positions at once are $500
Maximum trade of a single open position is $500
Contest Prizes for Binary Blast Demo Contest by Ayrex
Prizes:
1st place – 30 USD | 2nd place – 20 USD | 3rd place – 10 US |  4th place – 10 USD | 5th place – 5 USD | 6th place – 5 USD | 7th place – 5 USD | 8th place – 5 USD
Short Description at a Glance:
– no deposit required
– 3 rounds per week
– 8 winners every round
You can read the Ayrex Broker Review here
Register For The Ayrex binary Blast Here