The past week was a good one although it was a bit slow as would be expected when the year starts. Let me review some of the setups that I took and how they played out.
As a trader, you should continually review your trades and learn from them.
The first setup I will look at is a signal I gave on the 21st of December on the AUDUSD pair. There was a bullish pennant formation and ti worked out like a textbook. See the first setup below.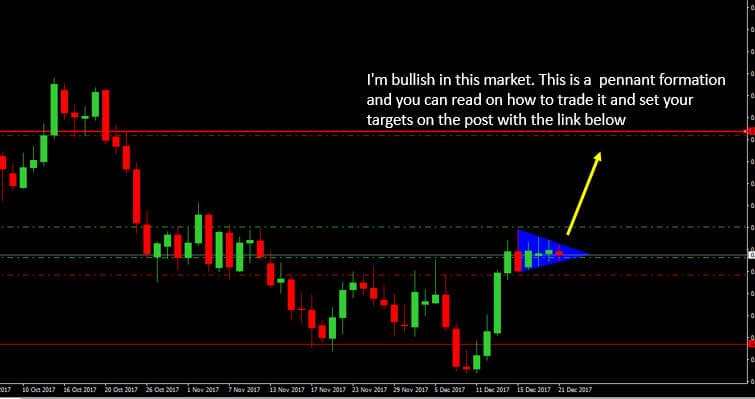 I opened two positions on the pair. The first one was based on an H4 bullish pin bar to catch the move early. It's the bottom green line you see there. I did this because I know the power of multi-time frame trading and its potentially big benefits.
The second green line above was a pending buy stop order and it was later triggered.
The chart below shows the final setup with take profit hit.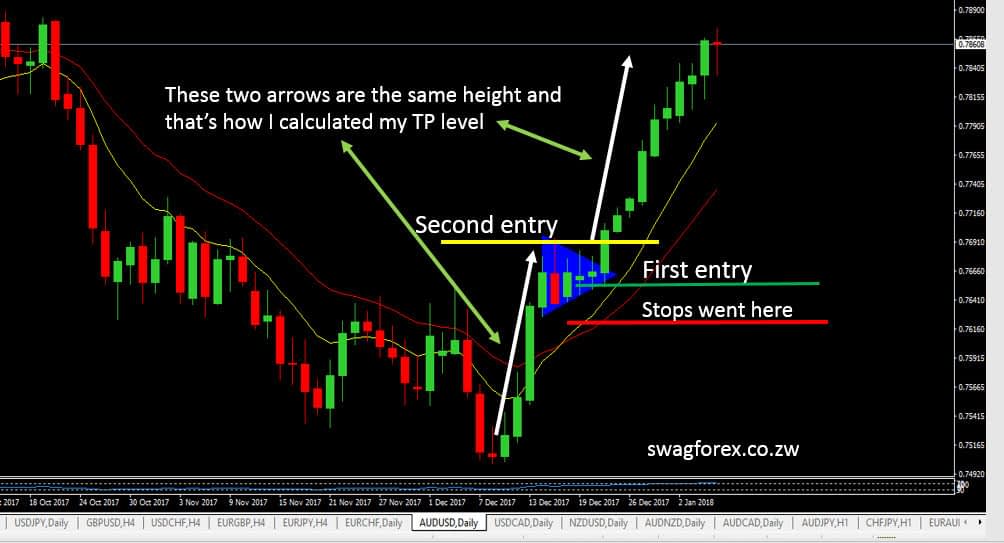 The first trade netted me 180 pips after starting with a stop loss of 20 pips. This gives an impressive risk to reward ratio of 9R! 
The second trade gave me 140 pips with an initial stop of 60 pips. The risk-reward ratio was 2.5R & it's not really bad but you can see the power of multi-time frame trading when it comes to ballooning your profits while reducing risk.
Smart People are Investing in Diamonds. Shouldn't you?
If you are not aware of risk to reward ratio you can learn about it here. I promise you it will change your trading and the way you look at setups.
All in all, I bagged 140+180 pips= 320pips in 19 trading days. Not bad huh? A sweet way to start the new trading year. Caution is the name of the game though, you should never get attached to your profits (or losses) its disastrous.
On 4/01/18 I gave a signal on GBPUSD looking at a potential retest of a broken trendline. The initial setup is shown below.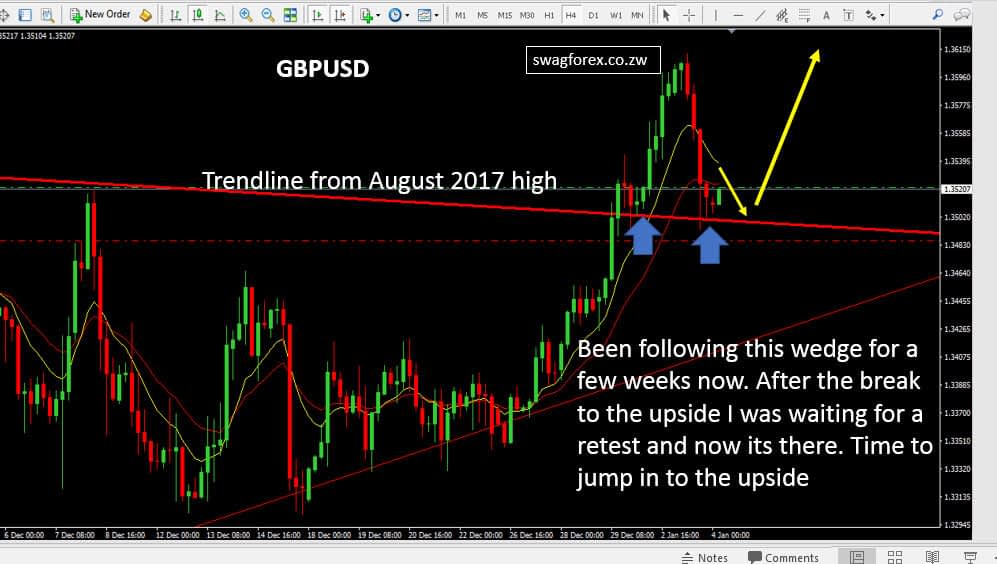 The trend line resistance turned support held and now the chart looks like this.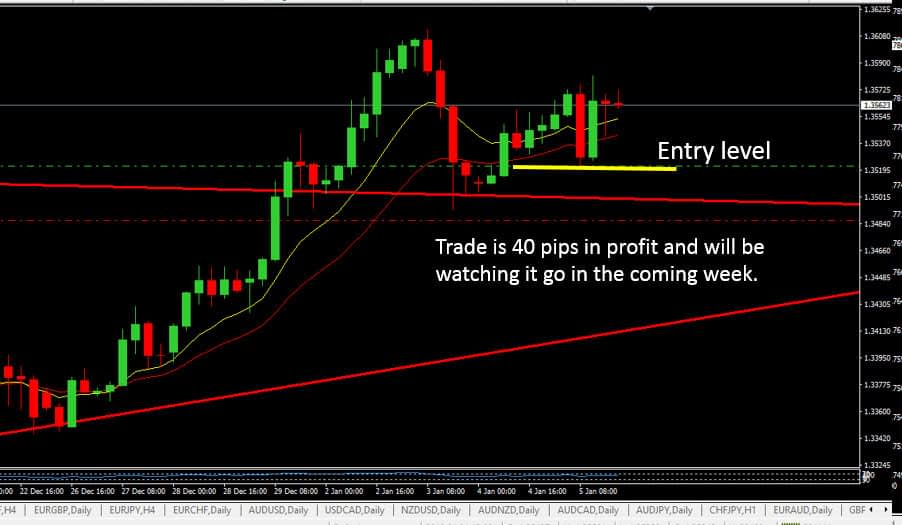 The last setup for today is the EURJPY and the initial setup is below.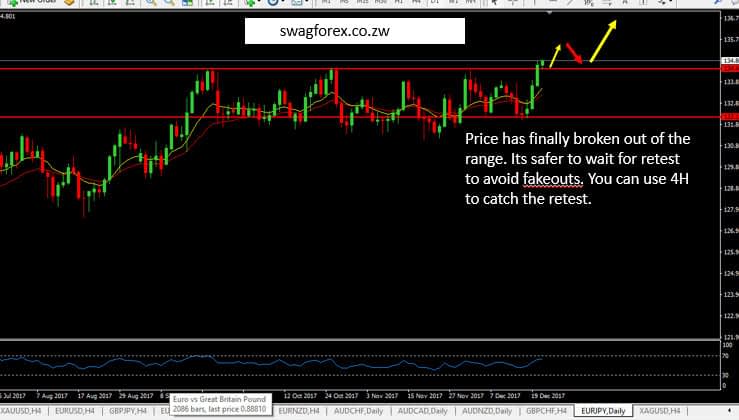 I have been in the trade since the 27 and my take profit was missed by just ten pips yesterday.      Currently the chart, it looks like this.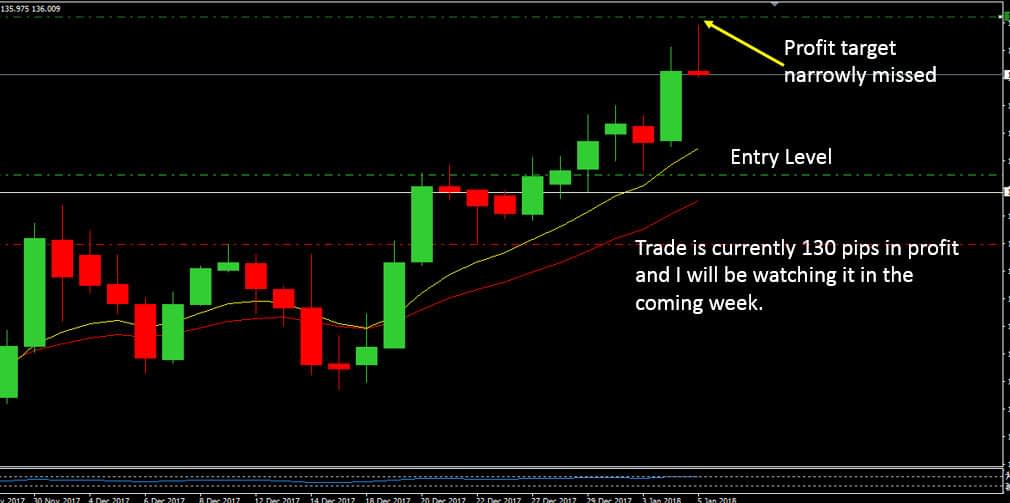 So these are the setups I review for this week. Some of the setups did not materialise and I will be looking at them tomorrow when I post my weekly signals.
I love to hear your feedback on these signals so please use the comment box below to share your responses.
As always I kindly ask that you share these posts with your friends so that they can benefit too. Happy weekend!