Forex trading getting very popular the world over and the fact that you are reading this is a testimony to that. There are a number of reasons for this and we will look at them below. I will also explain to you the risks involved in Forex trading so that you can decide for yourself if you would want to risk your money in the forex markets. 
Advantages of Trading Forex
Trade at your own convenient time
Because the forex market opens 24 hours, 5 days a week, you can trade after work when you go to your house. With a proper plan, you can trade Forex even if you are in full-time employment.  You see, there is no bell for opening in the Forex market. It is easy to enter a trade or exit a trade at your convenience from Sunday around 11:00 pm GMT+2 to Friday around 11:00 pm GMT+2.
Fewer Currency Pairs to Trade 
You don't need to scan and research thousands of shares like in the stock market. In the forex market, there only 5 major currency pairs and another 15-20 at least you can look at for trading opportunities.
You can deposit as little as $5 in your [eafl id="173″ name="Hotforex Link" text="trading account"] at many retail brokers and commence trading the same day in most cases. Ability to make straightforward orders allows you to trade at the mere click of a mouse.

In forex trading, a small deposit can control a much larger total contract value. Leverage gives the trader the ability to make nice profits, and at the same time keep risk capital to a minimum. For example, a forex broker may offer 50-to-1 leverage, which means that a $50 dollar margin deposit would enable a trader to buy or sell $2,500 worth of currencies.
Similarly, with $500 dollars, one could trade with $25,000 dollars and so on. While this is all presents a chance for increasing profit let me warn you that leverage is a double-edged sword. Without proper risk management, this high degree of leverage can lead to large losses.
You can practice trading using virtual money
Most online [eafl id="173″ name="Hotforex Link" text="forex brokers"] offer free "demo" accounts to practice trading and build your skills, along with real-time forex news and charting services. Demo accounts are very valuable resources for those who would like to hone their trading skills with "play money" before opening a live trading account and risking real money.
Demo accounts allow you to get a feel of the trading process without using your real money. Every trader should start trading with a demo account before risking real money. Even after switching to a [eafl id="173″ name="Hotforex Link" text="live account"] its advisable to keep running a demo account to test new strategies.
Many retail market-makers provides you with overall lower exchange costs than you can get from commodities and stocks.
Good Volatility to Profit From Up or Down Markets
Good Volatility allows traders to make a profit in all market conditions and also provides for weekly high-probability trading opportunities. There is also no any structural market bias like those long biases characterized the stock market. In Forex, you can make money whether the currency goes up or down.
 Biggest and the most liquid market on the planet
You can get into trades in and out and have would have no liquidity problems of getting your orders filled.
Trading platforms provided by forex brokers are free.
You don't have to pay any monthly subscription fees. These [eafl id="315″ name="hotforex platforms" text="trading platforms"] are all free!
Trade forex from anywhere in the world.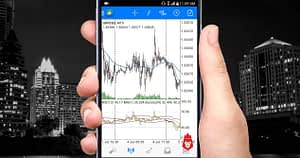 There is freedom of trading anywhere you find yourself in the world with your laptop and internet connection.You can even trade on your Smartphone.
Market manipulation or insider trading hardly happens
Why? Because the forex market is too big for anyone or any company to manipulate, unlike the stock market where it is notorious for insider trading.
Compared to that of the stock market, forex trading has lower transaction costs
Therefore, forex traders are endowed with the equal opportunity to make profits in rising or falling markets.
Disadvantages of trading Forex
Now let's look at some of the disadvantages of trading Forex
 Forex Trading Risks
Forex trading has its risks. Venturing into the Forex markets only thinking about the reward while ignoring the risks involved is a sure way to lose your money.
All investments carry risks. Forex trading is the same, it has its risks and you must understand these risks before you risk your hard-earned money.
You can lose all of your invested capital. Don't start trading forex if the money you are putting on the line is your life's savings. You should always trade money that you can afford to lose. If you trade with money meant for your rent, for example, you are likely going to lose it because you will get emotional and make wrong trading decisions. If you cannot spare money for trading I would advise that you stick to demo trading and develop your skills while you mobilise the funds.
Forex is a leveraged instrument, if you don't know how to handle leverage it can be a

double-edged

sword, you can make a lot of money but can lose a lot too. You can learn more about leverage on the glossary page
Economic and political events can impact the currency markets causing you to suffer enormous trading losses if you do not have proper risk management process in place.
There are bogus brokers out there who can scam you if you open a forex trading account with a dodgy forex broker and it may be hard to withdraw your money from profits made. Granted when starting out it is difficult to know the right broker and that's why I wrote a broker review to help you. I have also written a section on scams to avoid.
You can become your own worst enemy. Failure to learn from past mistakes as well as not really understand what it takes to succeed in forex

,

can bring you down. You see, it takes time to become

successful in

forex trading. There's

lot

of emotional roller coaster involved and then there's the risk management aspect of it as well. I have written on trading psychology to help you become a better trader.
It's important that you accept the glaring fact that you could lose money on any trade you place if you are really serious about trading the Fx market in the right way.
Check out the disclaimer page for more legal warnings.
Click here to go to the next lesson and learn about the forex market sessions market. Alternatively, you can go back to the introduction to forex page with all the lessons.