Explore The Chapters
Price action represents collective human behaviour.
Human behaviour in the market creates some specific patterns on the charts. So price action trading is really about understanding the psychology of the market using those patterns. That's why you see price hits support levels and bounces back up. That's why you see price hits resistance levels and heads down. Why? Because of the collective human reaction!
Price action gives structure to the forex market.
You can't predict with 100% accuracy where the market will go next. However, with price action, you can, to an extent predict where the market can potentially go. This is because price action brings structure.
So if you know the structure, you can reduce the uncertainty to some extent and predict with some degree of certainty where the market will go next.

Price Action helps reduce market "noise" and false signals.
If you are trading with stochastic or CCI indicators etc, they tend to give too many false signals. This is also the case with many other indicators. Price action helps to reduce these kinds of false signals. Price action is not immune to false signals but it is a much better option than using other indicators…which are essentially derived from the raw price data anyway.
Price action also helps to reduce "noise". What is noise? Market noise is simply all the price data that distorts the picture of the underlying trend… this is mostly due to small price corrections as well as volatility.
One of the best ways to minimize market noise is to trade from larger timeframes instead of trading from smaller timeframes. See the 2 charts below to see what we mean: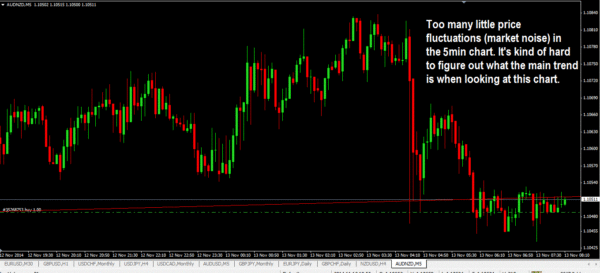 And now, compare market noise in the 4hr chart (notice the white box on the chart? That equates to the area of the 5min chart above!):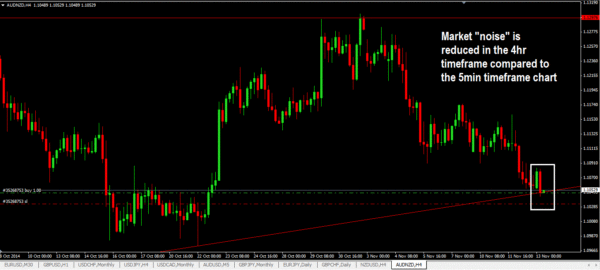 Smaller timeframes tend to have too much noise and many traders get lost trading in smaller timeframes because they do not understand that the big trend in the larger timeframe is the one that actually drives what happens in the smaller timeframes.
But having said that, I do trade in smaller timeframes by using trading setups that happen in larger timeframes. I do this to get in at a better price point and keep my stop loss tight.
This is called multi-timeframe trading and I will also cover this in the following Chapters to show you exactly how it's done.
Is Price Action Applicable To Any Other Market?
The answer is yes. All the price action trading stuff described here are applicable to all markets. You can even see how it applies to synthetic indices.

Click Here
In here, we will mostly be talking in terms of using price action in the currency market but as we've mentioned, the concepts are universal and can be applied to any financial market.
Price Action Trading is about trading with an edge.
What is a trading edge?
Well, put simply it means you need to trade when the odds are in your favour. Things like:
Trading with the trend

Using Support and resistance levels in Trading.

Making your winners larger than your losing trades

Trading only in larger timeframes

Waiting patiently for the right trade setups and not chasing trades.

Trading With Price Action Using reliable chart patterns and candlestick patterns.
All these kinds of things above help you to trade with an edge. They may not be exciting and probably you've heard of these before but hey…this stuff is what separates winners from losers.

What Price Action Trading Is Not
Price action trading will not make you rich…but price action trading with proper risk management can make you a profitable trader. Some of you will go through this guide and learn and make much money but some of you will fail. That's just the way life is.
Price action trading is not the holy grail but it sure does beat using other indicators (most of which often lag and a derived from price action anyway!).
Price action trading will not make you an overnight success. You need to put in the hard yards, observe and see how price reacts and see those repetitive patterns and then have the confidence to trade them then you will be rewarded for that.
Chart Time-Why It Is Important
You need chart time to understand Price Action.
Observe the price action of the market.  Go back to the past and see how the market had behaved. What caused it to behave that way?  You cannot be a confident price action trader until you do this.

If you could simply read the charts well enough to be able to enter at the exact times when the move would take off and not come back, then you would have a huge advantage.
Trend lines, specific candlestick patterns, specific chart patterns, Fibonacci retracement levels & support and resistance levels…these are the tools I use to trade.
If you put the time and effort into learning them, it won't be long before you will begin to understand and see how all these things fit together.
Start learning to trade naked price action!
Use the links below to take you to the next page you want to see
Explore The Chapters In The Price Action Course
Share this using the buttons below